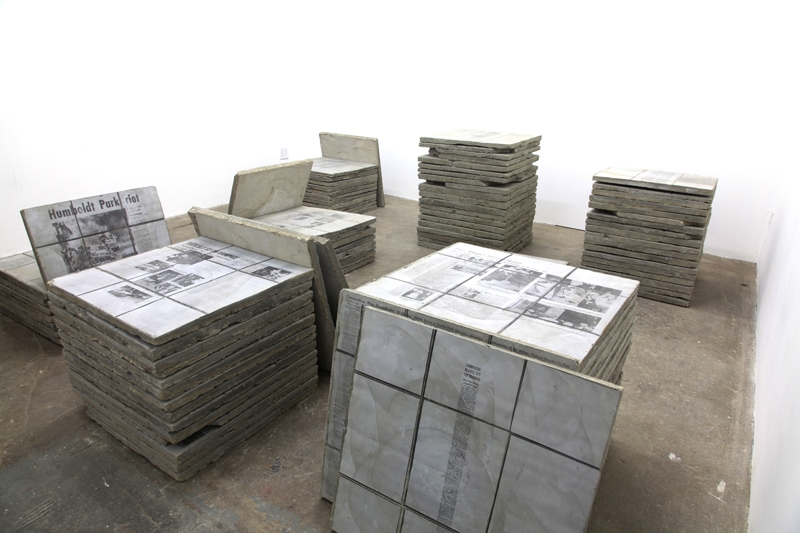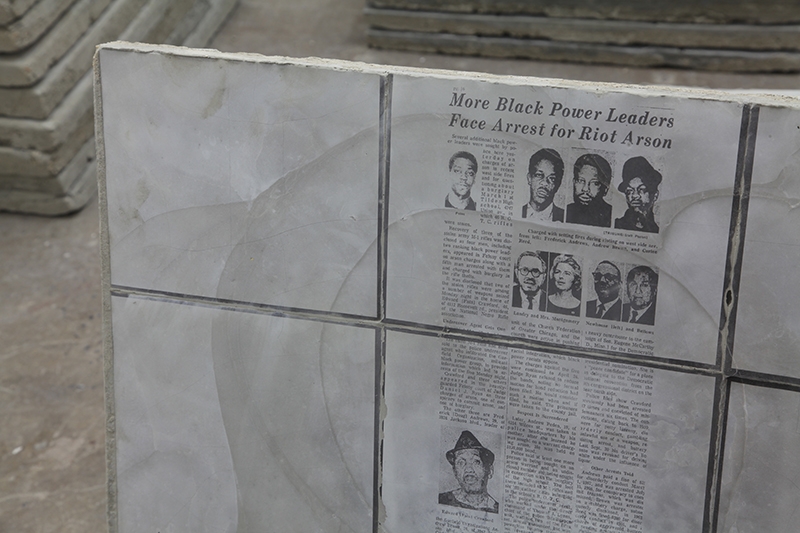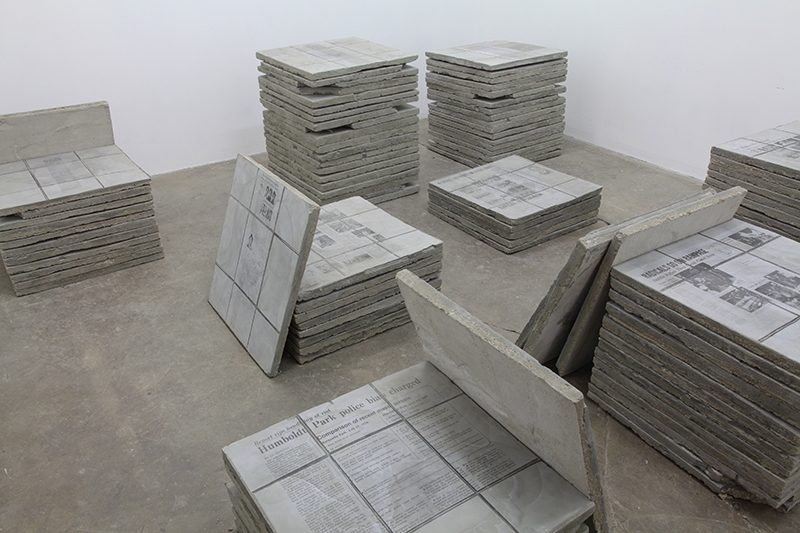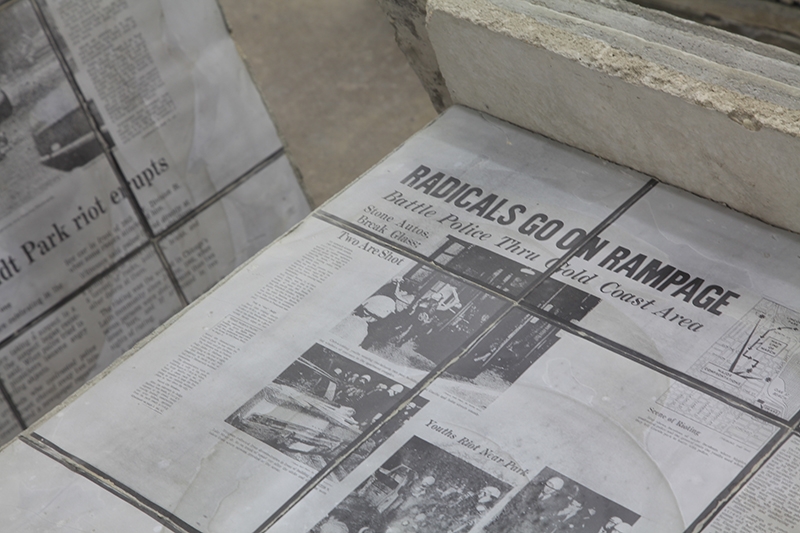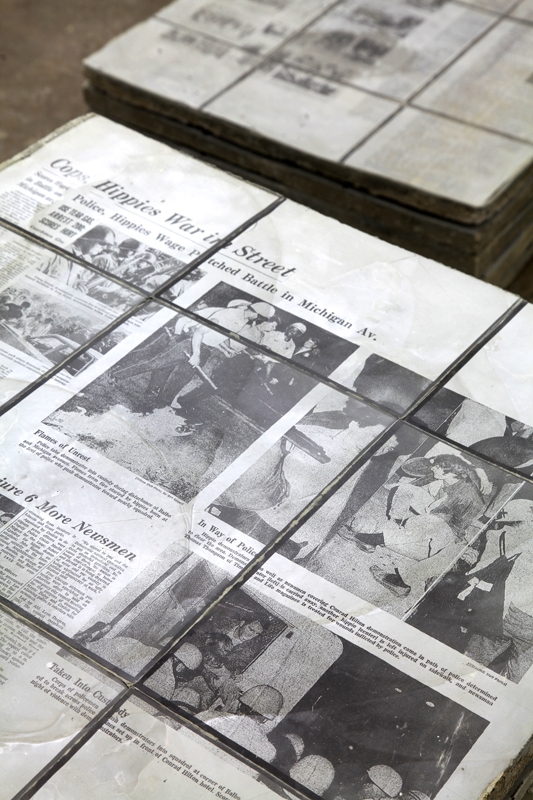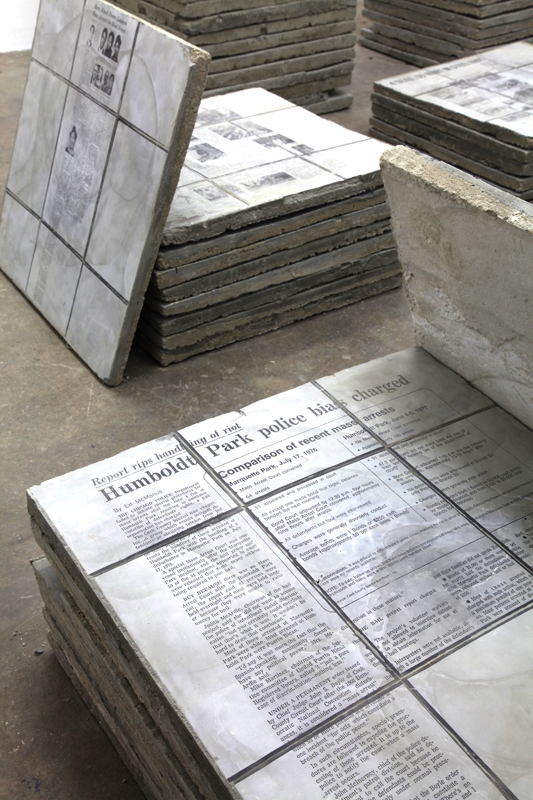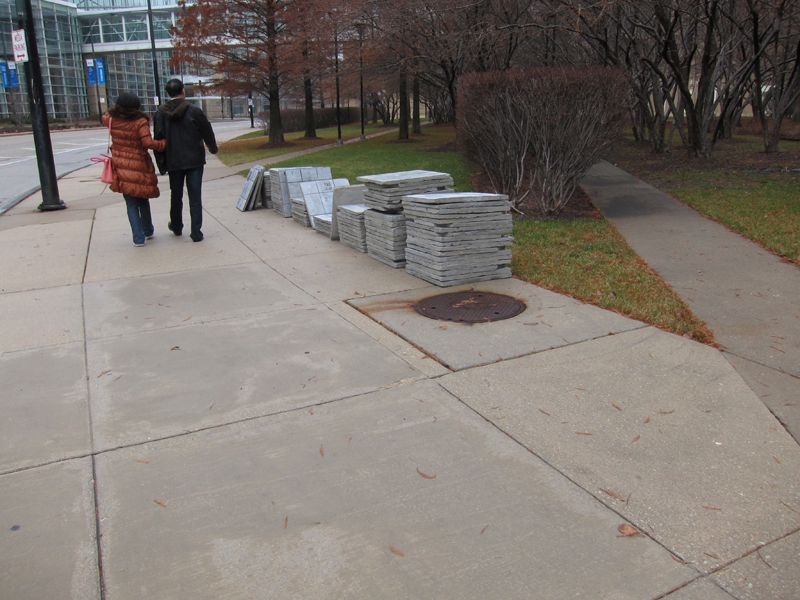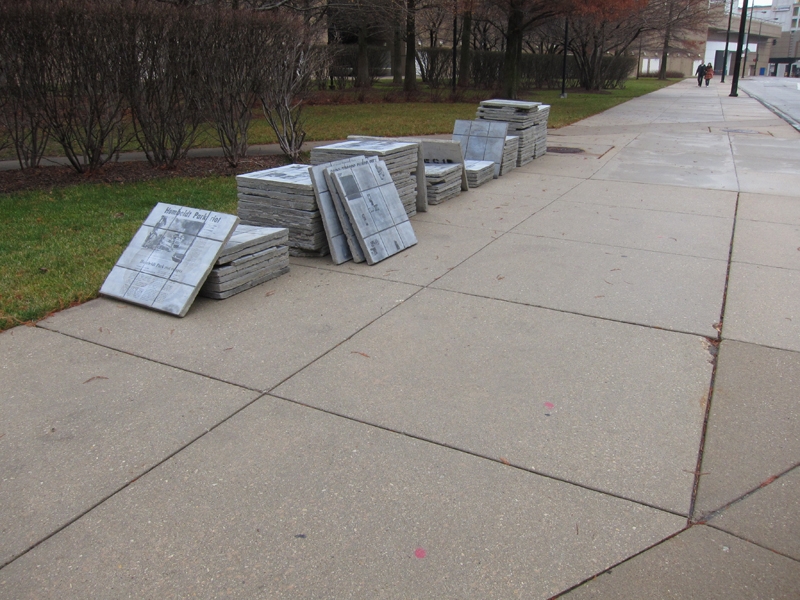 my kind of town (2012)
dimensions:variable
eight stacks of articles from selected riots in chicago
JULIUS CÆSAR
3311 W. Carroll Ave, Chicago
CHICAGO IS MY KIND OF TOWN
Ramón Miranda Beltrán
with grupa o.k. and Ionit Behar
October 7–28, 2012
Opening Reception: Sunday, October 7, 4-7 pm
JULIUS CÆSAR presents Chicago is My Kind of Town, a show of new work by Ramón Miranda Beltrán, curated by grupa o.k. (Julian Myers and Joanna Szupinska) and Ionit Behar.
For this project Miranda Beltrán investigates eight historical moments of political unrest culled from the history of Chicago: the Haymarket Riot (1886), Pullman Strike Riot (1894), Chicago Race Riot (1919), Memorial Day Massacre (1937), Martin Luther King Riot (1968), Democratic Convention (1968), Days of Rage (1969), and Humbolt Park Riot (1977). Chicago is My Kind of Town emphasizes the links and differences among past social situations and those of the present. The exhibition's title explicitly conjures the protests surrounding the NATO Summit in Chicago in May 2012, policed by officers delivered to the location in municipal buses flashing a slogan from the song recorded by Frank Sinatra in 1964, "My Kind of Town." Like the public crises of the past, these events manifested distress and hope, failure and transcendence, rupture and kinship.
As he has done with projects in the past, Miranda Beltrán transfers archival photographic images to slabs of raw concrete. Based on extensive research of the Chicago Tribune archives, he chooses and transforms the ephemeral material of newspapers into solid rectangular stacks, like headstones or graves. By displaying them in the gallery, the piles of concrete gesture toward a cyclical accumulation of crises, movements from one extreme to the other, and show no easy way out.
Ramón Miranda Beltrán was born in San Juan, Puerto Rico, in 1982. He studied photography at the Universidad de Puerto Rico where he completed his BA in 2008. In 2012 he earned his MFA at the School of the Art Institute of Chicago. His work has been included in exhibitions at the Museum of Contemporary Art of Puerto Rico and the Institute of Puerto Rican Arts & Culture, Chicago, among elsewhere, and in 2009 as part of the 2nd Triennial Poli/Grafica, San Juan. He currently lives and works in Brooklyn, NY. Chicago is My Kind of Town is his first solo exhibition.
Julius Caesar is an artist-run gallery located in Garfield Park, Chicago, and is currently directed by Min Song, Chris Naka, Sean Ward, and original co-founders Dana DeGiulio and Molly Zuckerman-Hartung. Since 2008, Julius Caesar has fostered artists based in Chicago, offering a permissive and supportive space for artistic experimentation and exhibition. Chicago is My Kind of Town is the gallery's fifty-sixth show.